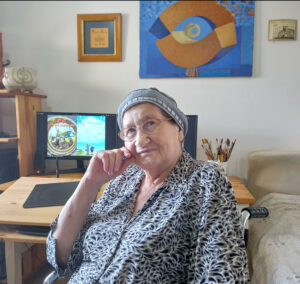 Anyone who saves one life saves the whole world. To beat cancer and save a life is incredible. This story is about you and me together being able to contribute to that.
Raya's mom has been in Israel since 2008. She is 77 years old. She has a successful adult son, grandchildren and great-grandchildren, a peaceful and joyful life, and a happy old age. Of course, not without health problems – ulcer, heart, blood pressure, diabetes, but who doesn't have that at this age? Blood tests and CT scans every six months, careful attitude to your health, and you can be calm. At least that's how it was.
A fall checkup in 2020 showed no new problems. The spring checkup of 2021 had to be skipped because of covid. And in the summer it became disturbing.
After Rosh Hashanah 2021 Mama Raya lost as much as 10 kilos. Then she lost another 10 kilos in a week.. Her family took her to the doctors to find out what was wrong and to take immediate action.
Tests revealed a liver problem. The doctors rushed her to a CT scanner at any clinic that would take her. A week later the results of the tests came back: cancer with metastases in the liver and bones.
That was no longer just alarming. Now I'm afraid!
The whole life of Mama Raya's family turned into a wait for the final results of the tests and the prescription of treatment, for the answer to her request for an apparatus to maintain oxygen levels in the blood. They waited for an answer from Bituach Leumi, cared for her, took care of her.
My son Yakov left his high-paying job as an illustrator in order to give his mother all the time he could. It wasn't even possible to work from home.
And there was still a way to live. Eat. Pay the bills.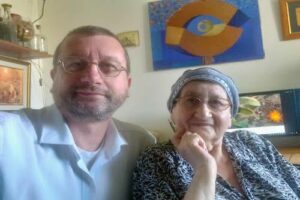 We opened a fundraiserto support Mama Raisa and her family until the subsidies started to be paid. And we reached our goal of 10,000 shekels in a very short time – unexpectedly fast even for ourselves. Thanks to you!
Mama Raya tells us how this story unfolded:
My name is Raisa Mitelman, I'm 77 years old and I've been in Israel for 14 years. I hope to meet Shabbat many more summers, to enjoy my grandchildren and great-grandchildren, to see them grow up! Mostly, my hope came back to me thanks to the selfless support of my loved ones, their faith, the prayers of many people, and your selfless help to a pensioner unknown to you. Thank you!
Thank you to the Yad Yitzhok Foundation and everyone who donated and supported us with money!
Caring for me required special meals, many other expenses and constant attention, 24 hours a day! We were very needy. And we overcame it in large part because of you.
I am happy to tell you that the disease is receding! My loved ones are back to work and life as usual, and I can enjoy the simple joy of being a grandmother again: taking care of my grandchildren.
We are continuing with the treatment and recovery of my body. I am full of optimism and gratitude to the Creator, who sent your hearts to help me!
Friends!
Thank you for doing real miracles! We are happy to be able to come to the aid of people who need it. Your generosity and sincerity inspire us to continue helping those in need.
Here we will continue to tell you about our common successes.